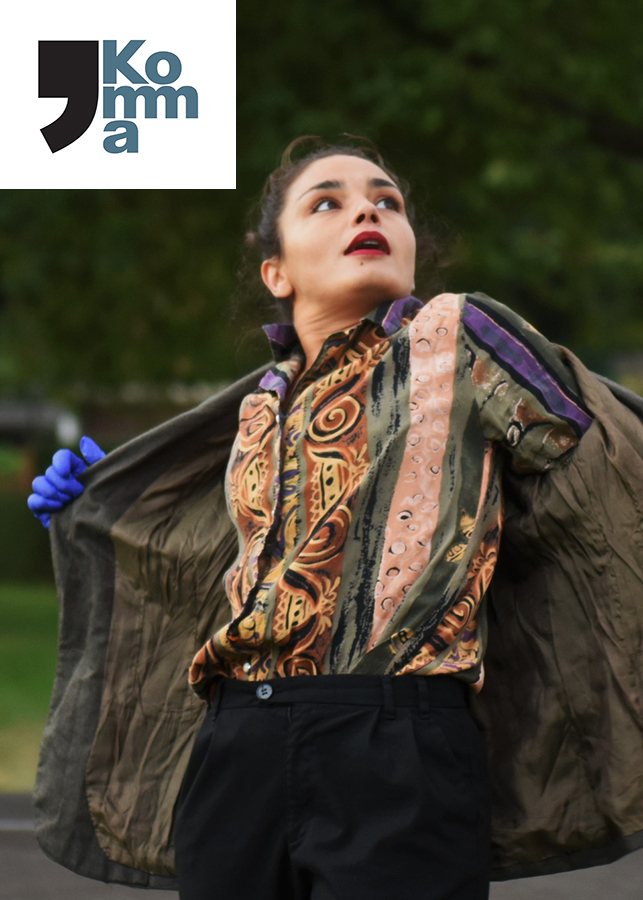 SARAH PRESCIMONE
KOMMA #21 - choreography/dance
comment on 'Promising II'
26.11 2022
Sarah Prescimone (1990) is a choreographer and performer of Sicilian origin. She studied choreography at the Dance Academy of the Fontys Hogeschool in Tilburg and has since been one of the new makers associated with Makershuis Tilburg.
She specializes in hybridizing inwardly oriented dance styles such as the Japanese dance style 'butoh' with the outwardly oriented styles such as 'urban'. In her work she searches for connections in these extremes and choreography has become a means to get to the core of the themes she explores.
A common thread that often returns in her work is 'the body in crisis'. This can be emotional baggage such as a traumatic experience. Through dance she tries to transform and heal that crisis in people. "In that I see the performer and the audience as one. There is no barrier between the two for me.
For example, if you are thirsty, hungry or cold, how does that manifest itself physically and what does it look like? The vibrations in the body due to cold, for example, can be reduced in micro-movements or increased in dynamic and explosive excesses of energy."
Since last year, Prescimone has taken a different path in the way she dances and choreographs. She is studying the functionality of movement, as is the case in martial arts. "While practicing BJJ (Brazilian Jiu-Jitsu) I discovered an interest in the functionality and intelligence of this movement practice, which I extend into the craft of making and performing. Movements extend to the exploration of the other - mirroring. I learn by reclaiming the moving mind and body to its fullest potential."
Sarah reacts to the exhibition 'Promising II'. The performance takes place on Saturday, November 26 at 3:30 pm.

Cooperation with Het Makershuis Tilburg.