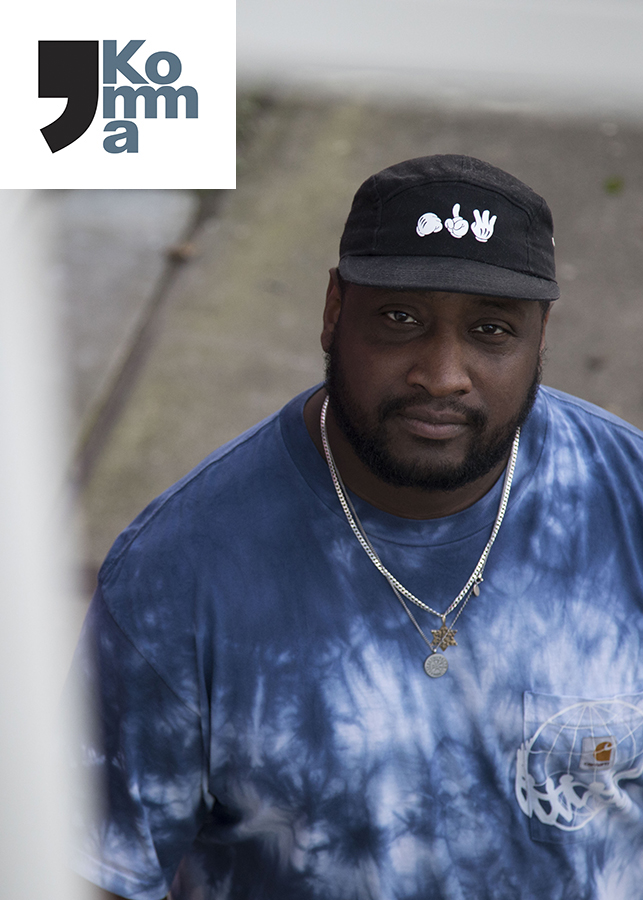 RODGAIRO DALNOOT
KOMMA #15 - rap / spoken word
comment on 'Figuur'
26.03 2022
MC and poet, that is how he prefers to call himself, Rodgairo Dalnoot. With rap lyrics that come to life both on a beat and without musical support. Dalnoot is known as a rapper who likes to grab the mic anywhere and anytime in order to unleash his power with technically heavy and cryptically written lyrics that consist of biblical references and a puzzle of wordplay. A jazzy cadence and intelligent accents intertwine in a presentation full of imagery and personal stories. He challenges his audience to listen more than once to get to know him. Rodgairo Dalnoot is the current city poet of Tilburg.
Rodgairo invited Marlissa Bentil Arthur to collaborate with him on KOMMA.
Marlissa Bentil Arthur (21) is a poet and writer (in addition to being an artist and student). She writes poems and abstract pieces of text about emotions, thoughts and the unfolding of yourself and life. Some of the themes she works on are trauma, mystery, loss and development in the form of personal and/or abstract stories: "When I write text or poetry, I am completely inside myself and my emotions, and I know how to transform them into a form so that I can look back and grow and hopefully make others think. In my poems I use rhythms inspired by jazz, afrobeat, hip hop and neo soul."
Together they respond to the exhibition 'Figure' in PARK. The presentation will take place on Sunday 27 March, when they will recite a combined poem: "The artwork by Nina van de Ven appealed to us the most. The poem tells about a search for the lost disciple of the ununknown called Preventing Loss. Nina told us that she is slowly creating a whole world around the ununknown and we are telling our version of it. A creation story and testament to the disciples."
Photo Rodgairo: Jalisa Oudenaarde.
Look down here or click here for a video impression.