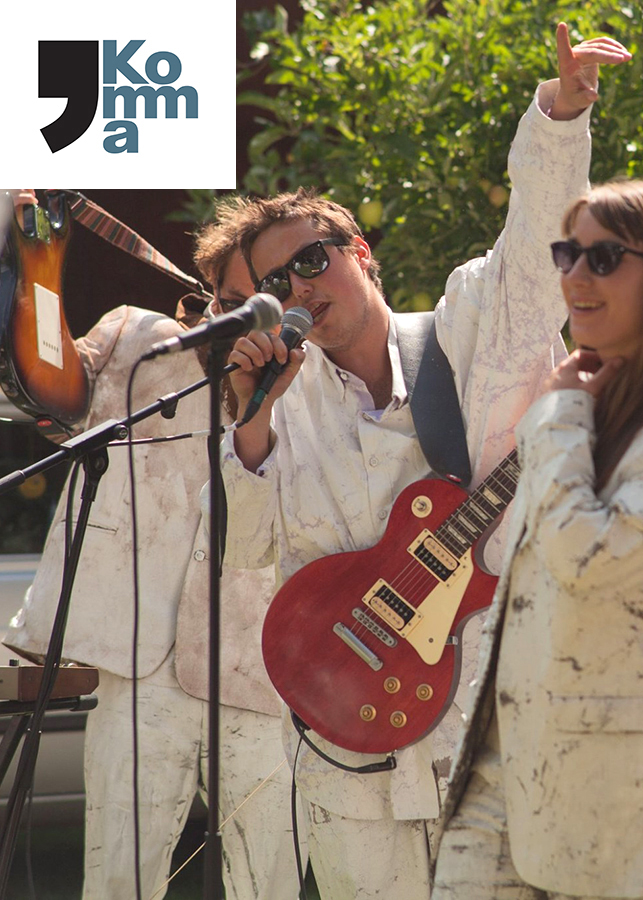 H.U.T.
KOMMA #14 - interdisciplinary
comment on 'Figuur'
26.03 2022
H.U.T. (Humanisten Uit Tilburg) is an artists' collective that builds bridges between Tilburg artists from different disciplines. They consist of musicians, visual artists, writers, film and theatre makers. H.U.T. is particularly committed to the development of experimental culture in Tilburg. They do this in various multidisciplinary projects such as organising the city festival MURF/MURW, DIY happenings, plays, food cafes, exhibitions and performances. Musically, H.U.T. makes a combination of krautrock, post-punk, improv free jazz, spoken word and sugarpop. The collective consists of Thomas Koevoets, Koen Reijnen, Martha Thissen, Merijn den Boer and Guus van den Heuvel.
H.U.T. reacts to the exhibition 'Figuur' in PARK. The presentation takes place on Saturday, March 26.
H.U.T. responds to the exhibition with an interdisciplinary performance: 'The starting point was the idea that any figurative work begins with an empty sheet or shape. Through a repetitive beginning, the viewer is challenged to fill in the blank. The LSD environment of Jesse Fischer, the Mexican hipster from another era of Nina van de Ven and the struggling men of Paul van Dongen are archeological finds from an artist's brain. Once the image has been dug up from the brain, brushed clean and positioned, it is ready to be viewed. However, there are still many shards and other objects in the earth that may be revealed by the artist's research. It's only the tip of the iceberg that can be seen in this exhibition, so let's dig a little further.'
Look down here or click here for a video impression.