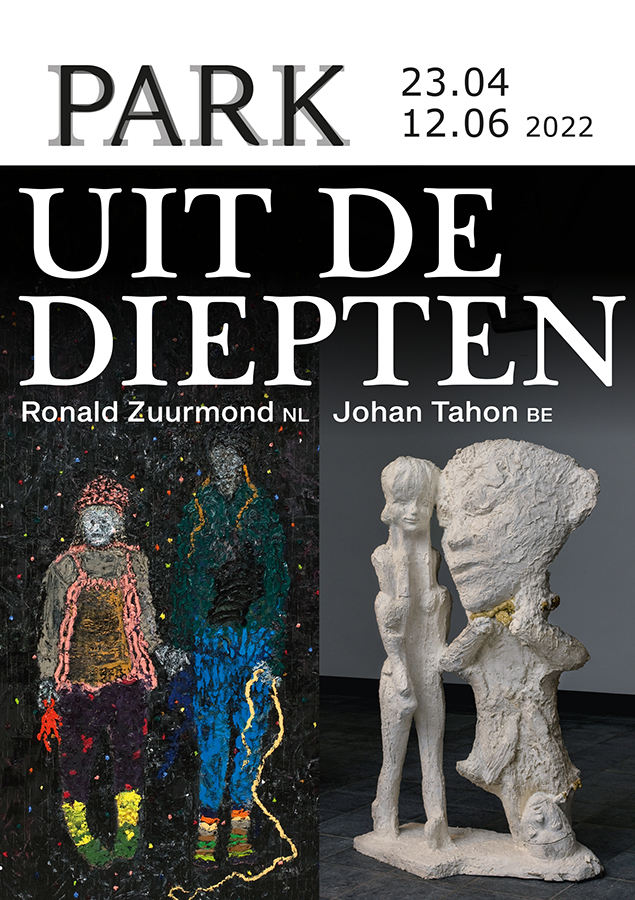 UIT DE DIEPTEN
installation
23.04 - 12.06 2022
Johan Tahon (BE)
Ronald Zuurmond (NL)

Johan Tahon and Ronald Zuurmond are showing new works under the title 'Uit De Diepten' (From the Depths): sculptures by Tahon and paintings by Zuurmond are exhibited in an installative arrangement.
'Uit De Diepten' refers to Psalm 130 (according to the Hebrew text a pilgrim's song) in which 'the lonely traveller on his way from nothing to nothing prays the profundus in the dead of night, longing for God's answer'. (Piet Gerbrandy, in The pursuit of the sublime).
De Profundis is also the title given to the long 'love letter' Oscar Wilde wrote to his beloved lord Alfred Douglas from prison, sentenced for sodomy.
Tahon (1965) and Zuurmond (1964) are loners with a mutual interest in each other's work: they recognise each other in their works. Their work seems to come from the same source, the same depth. The darkness in which they work and scream and from which the answer emerges in the form of an image.
The artists live and work in seclusion. This provides them with the silence and concentration to work optimally on their own world of sculptures and paintings.
The work of these artists is both a visual and a physical experience. Their way of working literally leaves deep traces in clay, plaster and paint. It is an intensive working method that requires a lot of time and attention: dissatisfied, taking it back, different, over and over again. Both artists are looking for works that seem to be detached from time, as if they have always been there, never to go away.
The opening takes place on Saturday, April 23 at 4 pm, you are cordially invited.
PARK is open on Friday, Saturday, Sunday from 1 to 5 pm and by appointment. Admission is free.
Click here for the exhibition guide (in Dutch)
Click here for an essay by Liza Voetman (in Dutch)

In the media:
- Museumtijdschrift - 15-04-2022
- Tilburg.com - 15-04-2022
- Zout Magazine Feuilleton - 6/7 2022