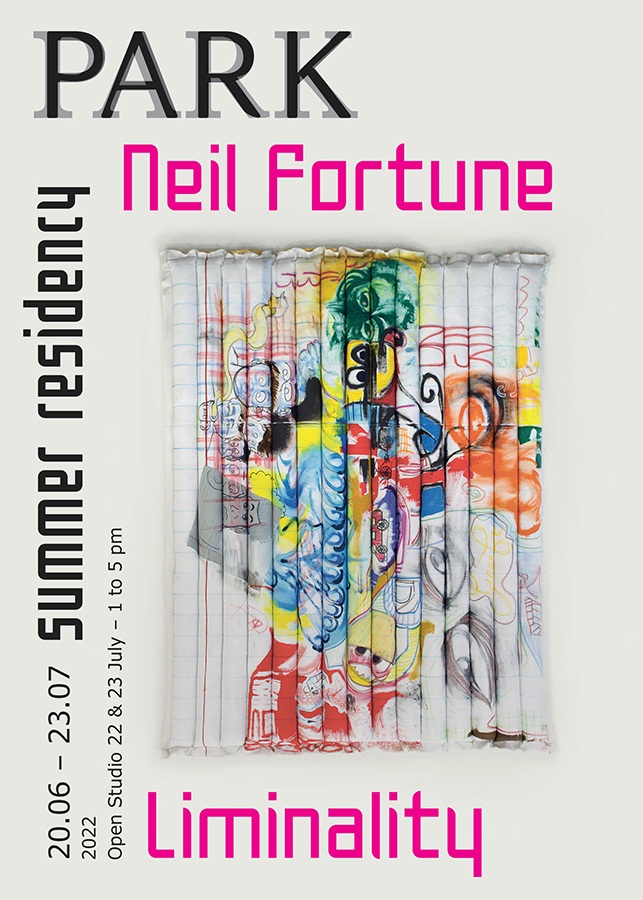 SUMMER RESIDENCY NEIL FORTUNE
LIMINALITY
work period and open studio
20.06 - 23.07 2022
In 2019 PARK started with the idea of facilitating artists in the summer residencies who refer to the impact of the diaspora in their works, reflecting on the Dutch colonial heritage.
Neil Fortune is summer guest 2022 at PARK. The concept of social sculpture and interaction appeals to PARK, also how this leads to autonomous sculptures. His residency came about in collaboration with Pauline Burmann of African Arts & Theory.
Neil Fortune was born in Guyana in 1983. At the age of six, he left with his parents for Suriname. Since he started studying at the Gerrit Rietveld Academy in 2007, he has been living in the Netherlands. In Suriname, he learned drawing and painting at the Nola Hatterman Academy. At the Rietveld Academy, he translated the colours of his paintings, abstract works of architectural spaces, into sculptures and installations. There he also discovered the sewing machine and started working with textiles. Although he often uses textiles, he likes to combine them with materials from painting. In the hanging objects, he is interested in the game of perception: Textile is pre-eminently suitable for that. It invites you to touch it. Your senses want to be part of the experience and the texture triggers curiosity.
"As a black artist in the world with a broad racial perception, inherited from two formal Dutch colonies Suriname and Guyana, I am always trying to find new boundaries, to push and stretch historical conventions. This has become increasingly evident in my projects over the years. I employ a working attitude that is layered, with different forms of experimentation, in order to develop a suitable language for my practice. To communicate with experiences.
In PARK, I am working on LIMINALITY, a project in which I would like to invite people from the neighbourhood to join me in conversation to collect new stories. I want to invite people to draw with me in the space of PARK. The idea is that I will have a conversation with these people and together we will develop material that will be used in different ways to make work."
The residency will be concluded with an open studio during the last two days, on Friday 22 and Saturday 23 July, from 1 to 5 pm. You are most welcome.
It is also possible to visit Neil Fortune by appointment during his working period, send him an e-mail.