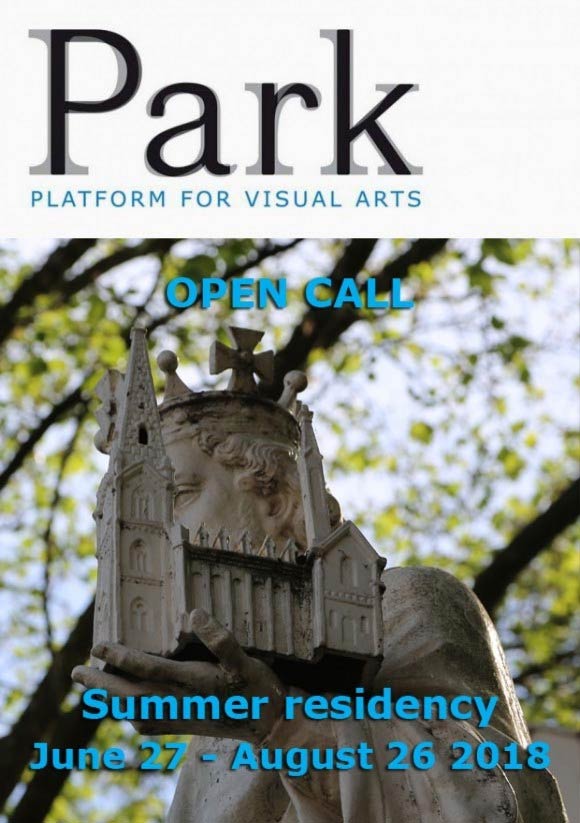 SUMMER RESIDENCY 2018
open call
02.04 2018 - 28.04 2018
During 8 weeks, from June 27 until August 26, PARK will host an installation-based artist

, living and working in The Netherlands, for a residency.
PARK is a non-commercial, artist run location for visual arts in Tilburg, encouraging experimental approaches. In a space of roughly 250m², PARK provides a program of exhibitions, performances, workshops, discussions and concerts.
Location of PARK is an 8 minutes walk from the Tilburg central railwaystation. Museum de Pont and TextielMuseum are our good neighbours.
 Main focus of PARK are solo and group exhibitions of emerging and mid-career contemporary artists.
 In addition the space is regularly used as place of production. An annual artist in residence-program concludes the repertoire.


The current open call is open to installation artists living and working in The Netherlands. One selected artist will have the opportunity to stay eight weeks and work on a plan in the PARK space.
The artist will be provided with € 1000.- all-in budget for this residency. This includes all costs such as travel, equipment, catering and artist fees. Also, the artist will be provided with free accommodation in the centre of Tilburg. The residency ends with a short presentation that will be realized in consultation with the artist.
The application is done solely digital, and can be send in PDF (max file size 5 mb) to air2018@park013.nl No separate images, texts, etc. Deadline is April 28, 2018
Digital applications (in PDF) must include:
- Current CV
- Copy of ID
- Portfolio / ocumentation of recent work
- Plan of intentions and motivation
Applications that don't meet the above will not be taken into consideration. Announcement follows in the second week of May. There will be no correspondence on the outcome.