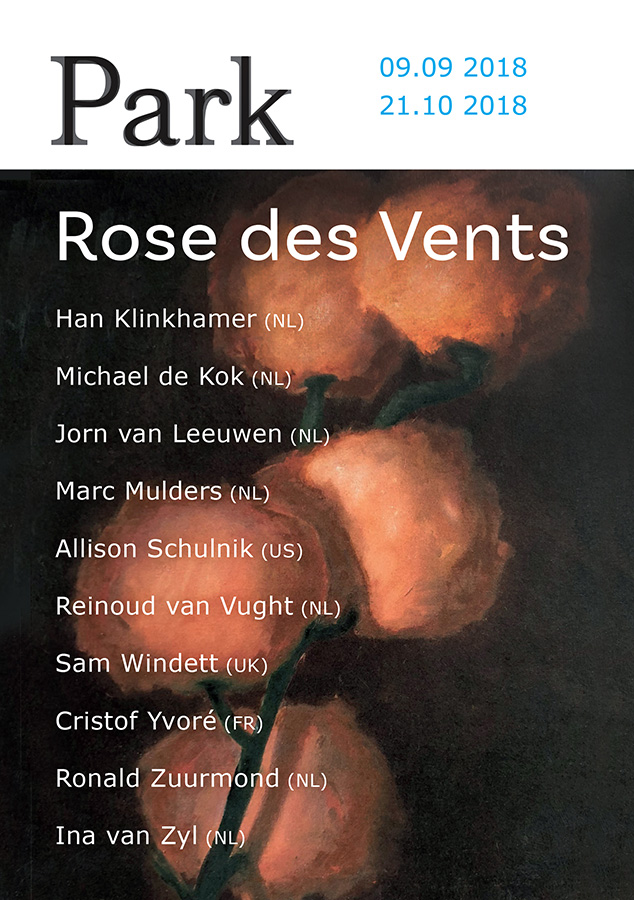 ROSE DES VENTS
exhibition
09.09 2018 - 21.10 2018
Han Klinkhamer (NL)
Michael de Kok (NL)
Jorn van Leeuwen (NL)
Marc Mulders (NL)
Allison Schulnik (US)
Reinoud van Vught (NL)
Sam Windett (UK)
Cristof Yvoré (FR)
Ronald Zuurmond (NL)
Ina van Zyl (NL)
In October 2018, PARK exists for five years and to a jubilee belong flowers. Flowers, which are cut to their best and give joy to our lives, but at the same time show us their transience. From 9 September to 21 October, the exhibition 'Rose des Vents' focuses on the flower in contemporary painting.
After five years PARK says goodbye to Reinoud van Vught. Van Vught always wanted to pay attention to the timeless work of the French artist Cristof Yvoré, who died too young. We have succeeded in getting some of Yvore's works, in which the flower is the theme, on loan from gallery Zeno X.

Other artists who have the painter's compass pointed in the same direction of paint strokes, drama and lyricism are Han Klinkhamer, Michael de Kok, Marc Mulders, Allison Schulnik (US), Sam Windett (UK), Ronald Zuurmond, Ina van Zyl and Reinoud van Vught himself. For this occasion Jorn van Leeuwen specially designed a floral wallpaper for the walls of PARK.

Van Vught makes, to mark the anniversary and his farewell, an edition of seven works that we can offer to our audience for a friendly price. The works will be assigned based on lottery after the exhibition. For more information look under 'PARK edition'.

Saturday the 8th of September at 4 pm, the opening will be performed by Hendrik Driessen, director of De Pont Museum. You are cordially invited.
Click here for the exhibition guide.
In the media: