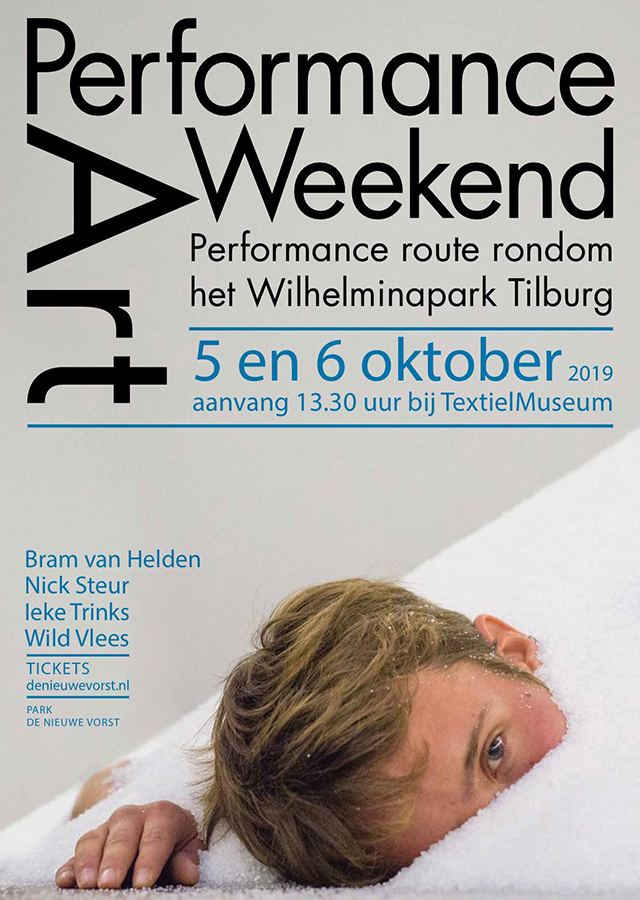 Performance Art Weekend
PARK & DE NIEUWE VORST
05.10 2019 / 06.10 2019
Bram van Helden
Nick Steur
Ieke Trinks
Wild Vlees
On 5 and 6 October 2019 the first edition of Performance Art Weekend takes place in Tilburg. The audience walks a route along performances that make the boundaries between theatre en visual arts fade away.
NOTE: all performances are on location!
We assemble at 13:30 at the Textielmuseum, Goirkestraat 96, 5046 GN Tilburg. The other venues are the Drögegebouw, Museum De Pont and PARK (all located around Wilhelminapark). We will walk there together.
For a while now De Nieuwe Vorst and PARK co-operate on the cutting edge of theatre and visual art because that is where new and fascinating work begins. Performances from visual art or from performing arts sometimes show big differences, but they also have great similarities. We bring the disciplines together in an inspiring quest.
The program:
Bram van Helden - Future Zen Garden 6
Visual artist and theatermaker Van Helden is fascinated by a thing he calls 'plastic organisms'. In his series Future Zen Garden he constantly gives new form to his work (performances, installations, exhibitions), however the theme of lifeless material brought to life in a theatrical way will always be central. With this Van Helden asks us to look at nature in a different way, in surroundings spared of human influences.
Bram van Helden (1988) lives and works in Tilburg. His work is supported by PLAN talentontwikkeling Brabant. Future Zen Garden is made possible by Makersfonds Tilburg.
At the same time, Van Helden's work is a soothing moment of reflection: a futuristic nature experience. (Marijn Lems, Theaterkrant)
Nick Steur - FREEZE
Small in approach, big in ideas. When he was a child Steur balanced rocks on top of each other. At a crucial time in his artistic career, he rediscovered this skill and created a performance with mind-boggling stone sculpturing. No glue, cement or any other trick is involved. It's all about concentration and "finding the balance between your own force of will, and that of the stone".
Nick Steur (Nijmegen, 1982) is a Dutch performance/visual artist working primarily with materials such as stone, sand, steel and water. He graduated in 2011 at the Theatre Academy in Maastricht. Amongst other prizes and nominations Steur won the 'Laureate young theatre' at TAZ festival in Belgium and the 'Scotsman Fringe First' for best new writing at the Edinburgh Fringe Festival. Various internationally renowned art institutions and festivals such as the Middelheim museum Antwerp, Kaaitheater Brussels and Adelaide Festival invite Steur to bring us through his work, back to the 'here and now' and experience things we might take for granted in a completely different way. Currently he is living in Brussels and supported by SoAP, Workspace Brussels and the Performing Arts Fund in the Netherlands.
A performance rarely demands the commitment, concentration and heartbeat of an audience to this degree. (De Morgen)
Ieke Trinks - I Enter A Room
I Enter A Room is a recent performance by Ieke Trinks, and is about performance-art. Trinks (re)uses (archive)material of other artists and makes it visible in a new context. Due to the narrative form this visibility is just as temporary as the performance of which is spoken. It is a form of distribution without economic efficiency.
Since 2006, the artist from Rotterdam, Ieke Trinks, mainly focusses op performance-art. The ordinary -the normal- is the starting point from where routine actions are re-defined by dissecting them in individual elements. Trink has performed at international venues and co-organized the annual Perfomance Art Event (PAE) in the Netherlands. She also worked in collaboration with the all-women performance troupe TRICKSTER.
Wild Vlees - An Incomplete Life
The young collective Wild Vlees (Proud Flesh) has an ongoing dialogue about the importance of the human being. In the impressively serene When everything is human, the human is an entirely different thing, they merged the human ego with its surroundings. In their new research Tamar and Francesca focus on the role of the human being on planet earth. Why are we trying, by every means possible, to preserve our lives on our planet. In An incomplete Life they try to embrace life in its entirety.


Order tickets at De Nieuwe Vorst:
Normal rate € 12,-
FHK 50% € 6,-
Youngsters under 25 and students € 10,-
Made possible by the Municipality of Tilburg and Prince Bernhard Cultuurfonds.
In the media: