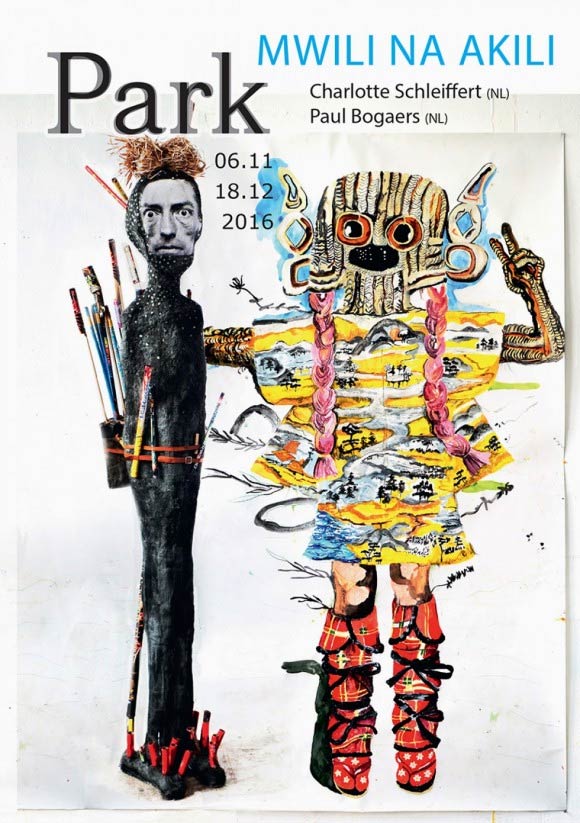 MWILI NA AKILI
tentoonstelling
06.11 2016 - 18.12 2016
Charlotte Schleiffert
Paul Bogaers
A duo exhibition with works from Charlotte Schleiffert (Tilburg, 1967) and Paul Bogaers (Tilburg, 1960). Both Schleiffert and Bogaers employ a particular worldview in their art. Man is cental in their predominantly figurative works. Schleiffert focuses on drawing and painting in a multicolored expressive imagery. In Bogaers' work the montage of images is important. His most recent work evolves from photography to the three-dimensional and shows a personal tribal African iconography. In 'Mwili Na Akili' (Swahili for 'body and mind'), the artists meet in the desire for a different world. Both Bogaers as Schleiffert are born in Tilburg. For Schleiffert this is the first exhibition of her work in Tilburg.
The opening of the exhibition on Saturday November 5 at 4 pm is conducted by Wouter Welling, curator contemporary African art.

ATTENTION: during this opening the launch of the book 'PARK 2013-2015' will also take place. For more information, look under 'activities'.
Click here for the exhibition guide (only in Dutch)
In the media:
'Stunning exhibition (...) The great PARK space is changed to a great anthropological disco-cave where life is good and where there is very much to see'
Chmkoome's blog