MENSCH
exhibition Carlijn Mens
13.03 2016 - 23.04 2016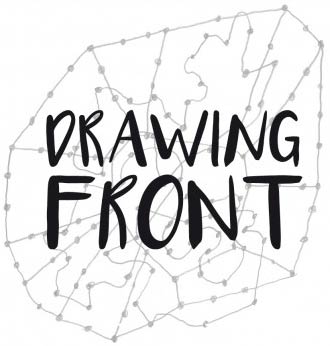 DRAWING FRONT is a nationwide drawing manifestation with the participation of 20 artists' initiatives in the Netherlands. The project is initiated by Drawing Centre Diepenheim. In this manifestation contemporary drawing is brought to the attention from different perspectives. All participating organizations make their own choice for the exhibiting artists.
See www.drawingfront.nl
PARK has invited Carlijn Mens to make an exhibition of her monumental charcoal drawings. She shows two recent projects and she presents them as an overall installation entitled Mensch.
The two installations in this exhibition are large, multi-part composite works on paper. Carlijn Mens uses her favorite medium charcoal to leave traces. In these works she is looking for a new iconography to visualize the move and the fleeing of people.
"Spuren der Bedeutung" consists of hundreds of footprints of children. A footprint is as individual as a fingerprint, as DNA. In the manner of walking of every child going somewhere and coming back, it's own character is also visible.
"Mensch" is about people who are expelled and flee. Images from art history and from the current news flow together in an equally concrete and abstract procession of bodies. Do I come from paradise or do I go to paradise? "Man is born free, but he is in chains everywhere." (Jean-Jacques Rousseau)
It is our pleasure to invite you to the opening on Saturday March 12 at 4 pm. The opening will be performed by Cees de Boer, curator and publicist.
Click here for the opening speech by Cees de Boer (in Dutch).
Click here for the exhibition guide (in Dutch).
Click here for more information about 'Spuren der Bedeutung' (in Dutch)
Click here for more information about 'Mensch' (in Dutch)
In the media:
DRAWING FRONT magazine - 03-2016
Bergense Courant - 15-03-2016
Brabants Dagblad - 17-03-2016
Trendbeheer - 11-04-2016