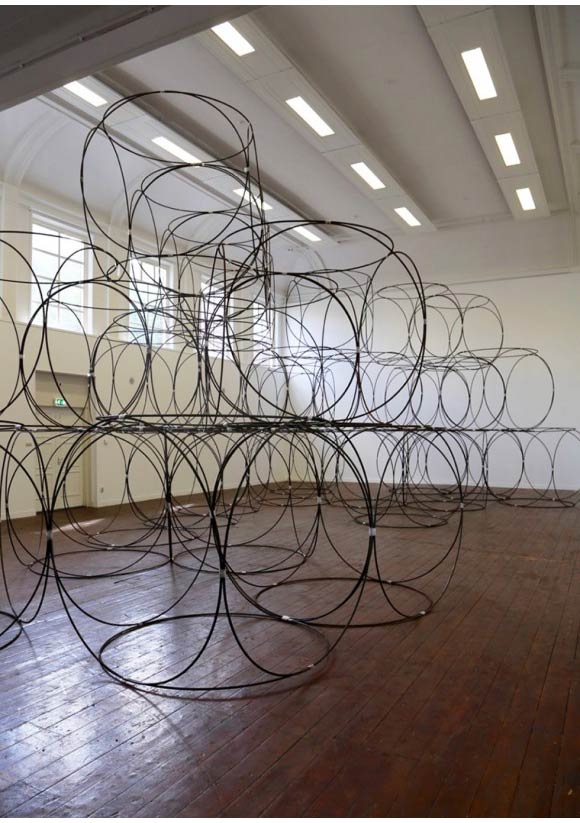 Iconostase 180
Do It With: Yona Friedman
07.07 2016 - 25.08 2016
In the summer months Incubate is a guest in PARK. Focus is on Yona Friedman's work.
Yona Friedman (*1923) is a Hungarian-Jewish architect who was involved in the reconstruction of Israel in the 40s. His ideas are diametrically opposed to those of Le Corbusier and modernism. According to Friedman, any individual can design his own house; the architect only ought to think of the great urban structures.
In 1958, Yona Friedman published his first manifesto Mobile Architecture. It described a new form of mobility; mobility for citizens who gained new freedoms. This long-term commitment today leads him to a broader investigation of participation. http://www.yonafriedman.nl/
The work of architect and theorist Friedman is presented in Tilburg in 2016 in the period July through September 2016 in the form of a museum pavilion entitled 'Iconostase 180' in which exhibitions, dance, theatre and music are performed. This pavilion is movable and will be placed at various locations in Tilburg. In July and August it is in PARK. Every week a performance by artists, and companies is staged in the pavilion, or there is an exhibition. These meetings mix a local with an international input. The project is implemented in collaboration with artist Nico Dockx and Jean-Baptiste Decavele.
Program July - August
Thursday, July 07
Zoetigheid & Polaroids & Muziek: The Avonden / Koning der Dieren / Seamus Cater
Thursday, July 14
Het brandt helemaal niet (cold food & acoustic music) Het Brandt / Vega sushi workshop
Thursday, July 21
Expo / Intervention: Mischa Doorenweerd + Crosley DIY DJ team - bring your own singles
Thursday, July 28
Unwind: Helvete (be) harmonium concert + yoga workshop
Thursday, August 4
Joost Dijkema + (s)preekbeurten avond
Thursday, August 11
Marijn van Kreij + Staplerfahrer
Thursday, August 18
Filmprogramma & popcorn
Thursday, August 25
Silent disco
Admission is always free
7.30 - 10 pm
Subsequently free music in Kaffee Lambiek
10 - 12 pm
PARK is also open on each Sunday in July and August, 1 - 5 pm.
For more information go to Incubate: http://www.doitwithothers.nl