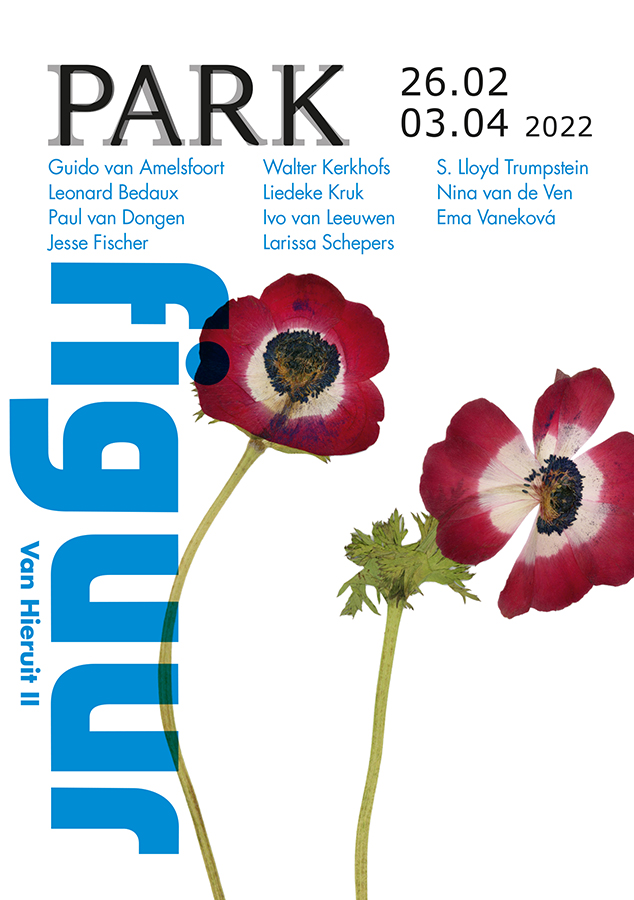 FIGUUR
exhibition Van Hieruit II
26.02 - 03.04 2022
Guido van Amelsfoort
Leonard Bedaux
Paul van Dongen
Jesse Fischer
Walter Kerkhofs
Liedeke Kruk
Ivo van Leeuwen
Larissa Schepers
S. Lloyd Trumpstein
Nina van de Ven
Ema Vaneková
In the exhibition FIGUUR (FIGURE), the work of eleven Tilburg-based artists will be shown from February 26 to April 3. They all use different forms of figuration in their work. The broadness and boundaries of that concept are explored in PARK by means of sculptural works, photography, film and painting in.
With regularity PARK pays attention to artists living and working in Tilburg. For many decades, artists in various disciplines and forms of expression have worked in this city. This group exhibition is the sequel to Van Hieruit (From Here), in which nine Tilburg artists participated in early 2019. So this time 'figuration' is the central concept from which the group is composed.
FIGUUR will be opened by art historian Rebecca Nelemans on Saturday 26 February at 3 pm. You are cordially invited. Of course, we ask you to comply with the usual corona rules.
Click here for the exhibition guide (in Dutch).
PARK is open on Friday, Saturday and Sunday from 1 to 5 pm and by appointment. Admission is free.
In the media:
- Tilburg.com - 31.01.2022
- Ticket to Tilburg - 31.01.2022
- Make it in Tilburg - 01.02.2022
- Tubelight #120 - april-june 2022